From customized tenant improvements to brand new builds, have it your way.
When it comes to commercial properties, we offer flexibility and choice. For existing spaces, we perform transformative renovations and restorations, creating offices, tech hubs, industrial and medical facilities, and hospitality and retail establishments perfectly tailored to clients' needs. For new builds, we use our expertise in design and project management to smoothly guide projects from beginning to end. Our guarantee is that every aspect of a project is handled with professionalism and integrity.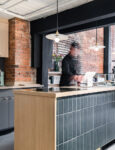 Your vision. Our team. Bringing all the right players together.
---
General Contracting
Collaboration is our strong suit. We're skilled at joining forces with third party designers, architects, and trades people, guaranteeing impeccable construction work and meeting every deliverable. By fostering long-term relationships with talented subcontractors and providing frequent status reports, we ensure there are no surprises.
Your dream. Our plan, design, & build—from concept to completion.
---
Design Build
Trust us from start to finish. As your project manager, we work closely with designers and architects to design, plan, and execute every aspect of your custom project. From design, to permitting, to pricing, to construction, we take care of it all. In collaboration with Bidgood + Co., we do the majority of our design work in house. The result is a seamless process involving open communication, saved time and money, and a functional, visually stunning project tailored to your exact specifications.
Your wishlist. Our expertise in making it happen.
---
Specialty Services
Custom finishing and specialty furnishings—from workstations, to cabinetry, to architectural millwork, to signage—add character and polish to any space. Our full-time team of carpenters and millworkers do all custom finishing in house, which gives them a greater degree of control over the process, resulting in a top quality product, and provides better value for money.
Our Residential Services
We specialize in creating unique, high-end residential projects. See what we can do for you.