overview
A Stunning Multi-Purpose Space Bridging the Past & Present
A cafe and retail space with room for friendly get togethers, productive work, and even imaginative play, this unique new business in Victoria's downtown core is the perfect blend of turn-of-the-century industrial charm and modern chic.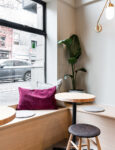 ---
Saint Cecilia occupies a heritage building built in 1900, and the space—replete with high ceilings, exposed brick, and oversized windows—was a dream to work with. The cafe sells fine coffee from around the world, but it also doubles as a retail store offering home goods and sustainable clothing brands. To accommodate both purposes, we created custom wooden shelving units along the length of the space, which match the warm wood of the bar and furniture. Next, we created distinct areas for the cafe's customers: long shared benches with matching tables and chairs for casual conversations at the front; a bar with high stools in the loft area, where individual cafe-goers can focus on their laptops; and a cheery area for children to eat a snack and play.
The details call to be noticed, too. The bar stands out with custom wood panels, forest green tile, and a glass display case for baked goods. Brass accents throughout, from the stair railing, to the lighting fixtures, to the band along the bar's base, complement the room's brick walls and exposed pipes. It's raw and refined at once.
Project Details
Type:
Hospitality & Retail
Design:
Bidgood + Co. Interiors
Partners:
Capson Electric; H.I. Mechanical; Island Metal Craft; CHF Contracting; Coastal Painting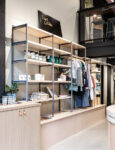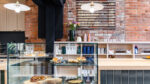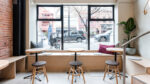 +2