overview
A Beautifully Customized Space for a Contemporary Cafe & Bar
Partnering with Bidgood + Co., Strong worked to fulfill owner Shane Devereaux's vision for a modern take on a classic European-style eatery.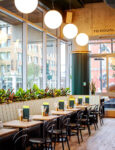 ---
The 2,100-square-foot space is housed in a new concrete building. To create a sense of intimacy and warmth, we created distinct zones. The bar, graced by a floating glass canopy and leafy greenery, is set off from the room by elegant brass bar rails and white ceramic tile. Custom white oak and leather banquette seating lend the surrounding space an inviting air. This project was a love letter to tiny details that make a big impact, and we brought craftsmanship to every aspect of the space, from the Art Deco-style mirror frames to the bar's edge detail.
We encountered our favourite part of the project when it came to addressing the space's structural concrete column. We wanted to emulate the look of wood panels, creating texture and visual interest, without the prohibitive costs. Our in-house carpenters immediately understood our vision, and soon we had engineered a solution: flexible MDF panels that could bend around the concrete column and adorn the bar and walls. The result: a beautiful high-end aesthetic delivered on budget.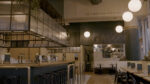 Project Details
Services:
Millwork; finish carpentry; furniture
Design:
Bidgood + Co. Interiors
Architect:
D'Ambrosio Architects
Partners:
Jawl Properties; Island Metal Craft; CHF Contracting; Island Custom Cabinetry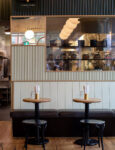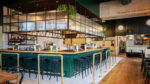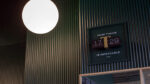 +2