overview
A Duplex's Modern, Minimalist Half
In collaboration with a talented architect in training, we built a modern, complementary addition to an existing home.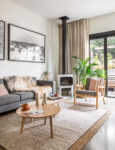 ---
This house takes its inspiration from 1940s architecture on the exterior, while delivering efficient use of space, an open floor plan, and easy flow between the indoor and outdoor areas. It's also characterized by a creative use of affordable and durable materials. For instance, we used custom milled plywood for flooring on the upper levels and polished concrete for the floors on the main level. We created a custom concrete bench in the dining area that emerges seamlessly from the concrete slab. Built-in shelving units and minimalist custom cabinetry give the space a clean, modern look, while skylights and large windows provide a bright and airy feel.
In the outdoor living space, we created custom wood benches enclosed by walls made of horizontal wooden slats that contrast nicely with the vertical lines of the house's metal siding while matching the adjoining house's horizontal siding. Practical and economical in terms of scale, yet undeniably comfortable and chic, this duplex serves as the perfect home for a young family.
Project Details
Services:
General contracting
Partners:
CHF Contracting; Coastal Painting; Capson Electric; H.I. Mechanical; Nortek Exteriors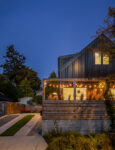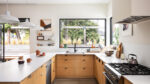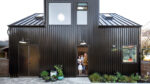 +2