overview
A Stunning Family Home Full of Character
Our clients were looking to upgrade their Craftsman-style heritage house. In collaboration with Bidgood + Co., Strong highlighted and replicated many of the house's original details while significantly reworking the layout, creating a much more functional and spacious home for this busy, fun-loving family.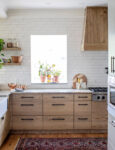 ---
The home had beautiful original character elements, including stained glass, built-in cabinets, and crown moulding, which had to not only be maintained but reproduced in new areas. We took every detail into consideration, down to the exposed beams and the original floor inlay, with the goal of designing a floor plan that would harmoniously tie into the home's existing heritage aesthetic.
On the main floor, we opened up the kitchen and dining room, transforming the flow of the space. We created more storage space for the kitchen by building floor-to-ceiling built-ins along the interior walls. Keeping the vertical elements at the inner core of the kitchen allowed for clean, open upper walls above the counter. An awkwardly placed toilet room was removed from under the stairs; this space became a cozy workspace nook while we found a more practical location and layout for the powder room. To provide more square footage, we extended the master bedroom to enclose a covered deck. Lastly, we built custom bunk beds with storage space for toys and linen, so the kids could curl up and read stories together. Comfortable and charming, this is a home to truly live in.
Project Details
Services:
General construction; finish carpentry
Design:
Bidgood + Co. Interiors
Partners:
Capson Electric; H.I. Mechanical; Island Custom Cabinetry; Coastal Painting; Floform Countertops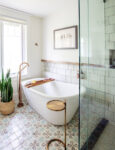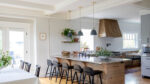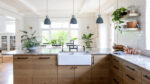 +2