overview
Two Identical Houses, Customized to Perfection
Building two spec houses on the same street allowed us to lovingly lavish attention on every aspect of the finishing and truly showcase our skills.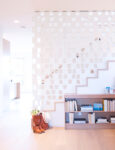 ---
The houses we call Morley East and West are the mirror image of each other, a fact that inspired us to give each a distinctive personality through creative design choices. Each house received its own colour palette, achieved primarily through the use of wood: Morley East's light wood lends it a bright and airy feel while Morley West's darker wood evokes a sense of refinement and tradition.
Throughout both mid-sized, two-storey houses, our custom millwork and cabinetry attract special notice. When it comes to the staircase connecting the floors, Morley East gets a custom-made statement wall, with abstract cut-outs elevating the design and letting in the light. Morley West's custom staircase may be less playful, but it's just as beautiful and functional, with vertical slats of wood drawing the eye upward and brightening the stairwell. Built-in shelving and storage space, custom cabinets in the kitchen, and a glass tile backsplash complete the look—these are stylish, modern houses whose beauty is evident down to the last detail.
Project Details
Services:
Custom millwork and cabinetry
Design:
Bidgood + Co. Interiors
House Design:
Ryan Hoyt Design
Partners:
Wespar Electric, Westbay Mechanical, Parker Johnston, Finishing Touch Painting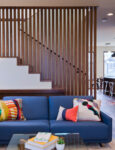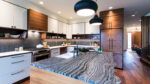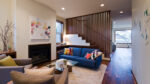 +2